We are committed to the development of processing technology. In order to maintain high quality, our inspection and test center (temperature-controlled room) is set up with our integrated measuring instrument for surface roughness and shape profiling, a measuring microscope, a 3D measurement device and various gauges, etc.
We strive to deliver good quality products.

In addition, depending on our customer needs, we provide the measurement data from our inspections when the product is delivered.
(Depending on the circumstances, a charge may incur. Please contact our company representative for further details.)
Ohno Seiko Co., Ltd. does not just deliver high quality products and services; rather, we support the customer's needs, we strive toward being a company that is trusted by others in society, and we have established the high quality policy found below. As part of our commitment, we have acquired ISO 9001 and ISO 14001 certifications.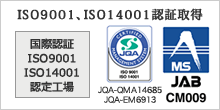 1.Ensure 100% customer satisfaction

We promise to strive toward being a company that is both trusted and useful to customers and to others in society, by ensuring "100% customer satisfaction" and by manufacturing products that satisfy the customers' needs.

2.Creating high quality through self-accountability

Each and every employee in every department always keeps the customer in mind for the post-processing results, and by integrating high quality within the processing stage, we create a system of self-accountability.

3.Building products means building up people

Based on our belief that "Building products means building up people," we develop (build up) and train our personnel further, and we impart a spirit of continued dedication thereby increasing the customer satisfaction and confidence level of each employee.
This is where we established our quality policy. We promise to satisfy the customer's needs with all of the products we manufacture, and we shall carry out continuous improvements that are effective, as part of our quality management system that we set up in our company.
We provide a quality policy and company target for each management team, and require them to create a department-based target, carry it out and report on the results.
We conduct reviews regularly in order to maintain an appropriate and effective quality policy.